Big news!
Interested in playing for Team USA?
Registration for the 2023 season is now OPEN!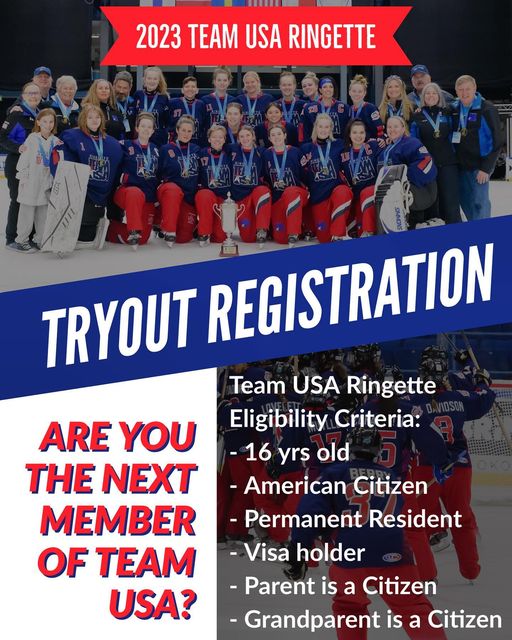 If you answered 'yes' to any of the above questions, then you could be eligible to play for Team USA!
We are looking for ladies with American ties that are strong skaters and willing to put in the work to represent the USA on the world stage!
Players must be 16 or older on 10/31/2023. All interested players must provide proof of eligibility and fill out our online registration form.
Registration can be submitted at the following link: https://forms.gle/CJNiBwFvjvYgAvoV9
Registration closes April 1st for both athletes interested in trying out for the 2023 WRC USA Ringette Team and for any junior athletes interested in our Junior Program.
For the first time, Team USA will also be hosting a Junior program for eligible future athletes born in 2008 or 2009. For more information and to register for the Junior Program, please email team.usa.ringette@gmail.com.
Upcoming Events:
TBA
Contact us for details on the upcoming tryout opportunities and your eligibility. You don't want to miss this once-in-a-lifetime opportunity!
If you have any questions, contact us via the website or at team.usa.ringette@gmail.com.
Follow us on Facebook, Instagram
#teamusa #teamusaringette #ringetteusa #usaringette #usa #ringette #worldringettechampionships #fastestgameonice #redwhiteandblue #roadtoworlds #wrc2022 #irfringette
Let's go USA! See you in Espoo!